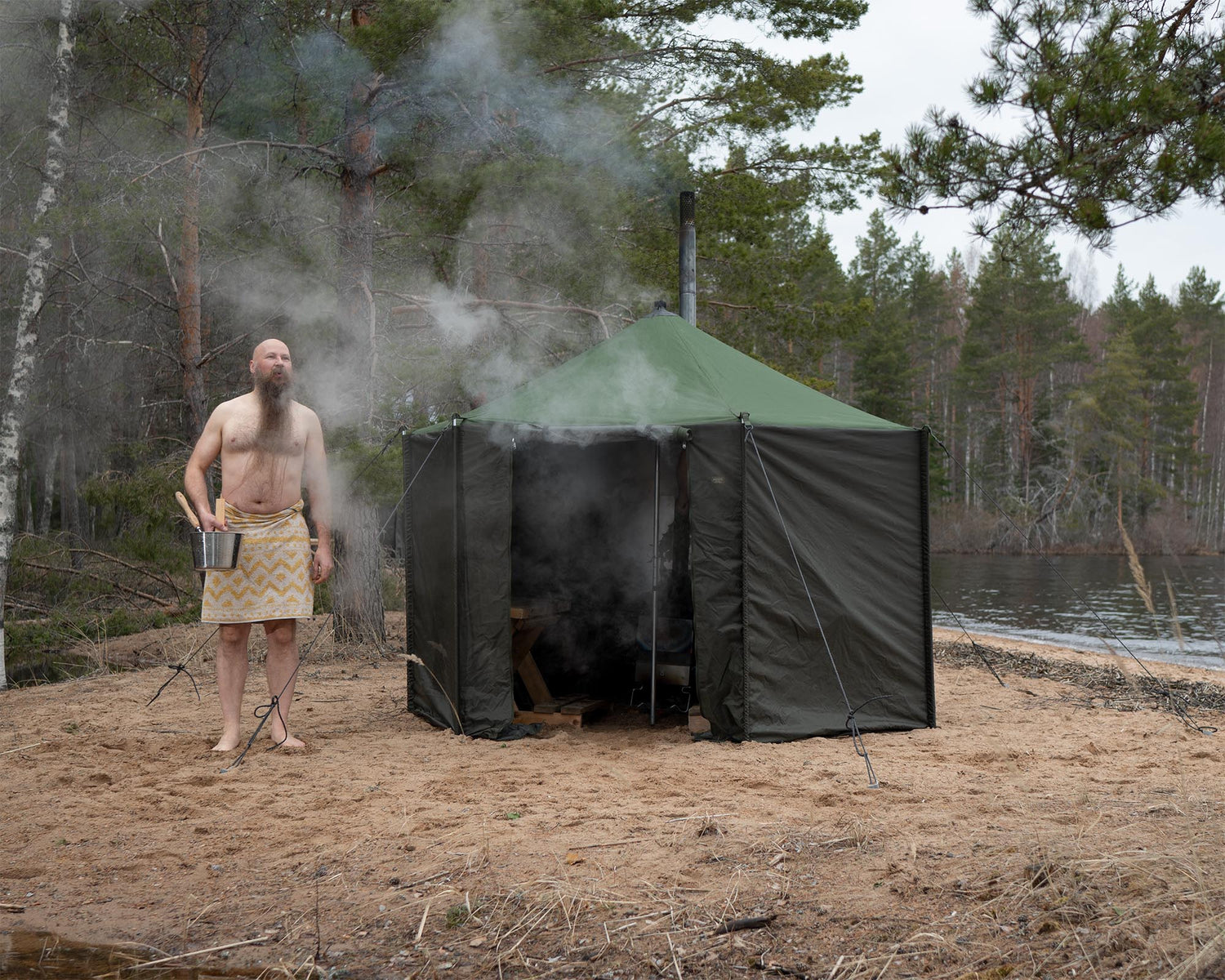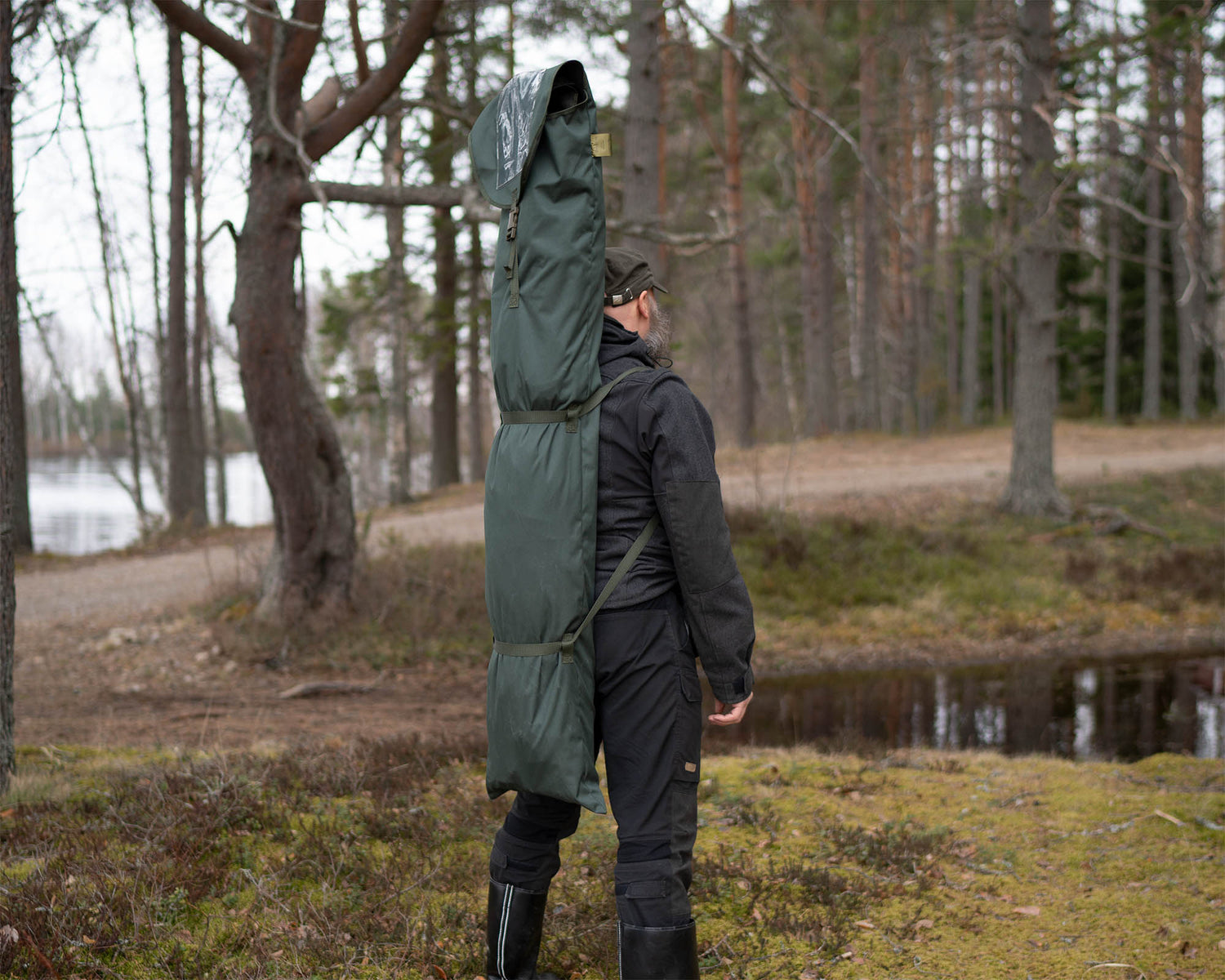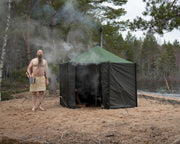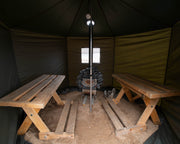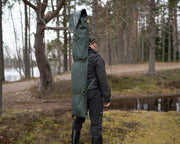 Hiisi 4
Regular price
Sale price
€679,90
Unit price
per
Restock estimate: Q1 2024.
We are currently updating this tent model, the updated design and materials will differ slightly from the old production model pictured here.

The price shown is for the old production model. Due to significant increases in raw material prices over the past years the price will, when the updated model is released, be higher.

A four person portable sauna tent for outdoor use. Easy to carry and set up almost anywhere. Take it to the beach, deep woods, mountains or backyard and enjoy a proper warming Finnish sauna session where ever you are. Stove and benches sold separately!
Main features
<ul>
<li>Designed for four people</li>
<li>Easy to transport and pitch</li>
<li>Compatible with the Savotta stove + stone rack</li>
<li>Fire retardant fabrics</li>
<li>Transport bag included</li>
<li>Centre pole, six corner poles and six stakes included</li>
<li>2 year material and workmanship warranty <a href="https://www.savotta.fi/pages/warranty-and-claims" class="s2link"> (read more)</a></li>
<li>Made in Finland/Estonia <a href="https://www.savotta.fi/pages/made-by-savotta" class="s2link">(read more)</a></li>
</ul>
Technical specs
<ul>
<li>Weight: 8,7 kg (incl. all accessories)</li>
<li>Dimensions:</li>
<ul>
<li>Diameter: 250 cm</li>
<li>Side height: 140 cm</li>
<li>Top height: 200 cm</li>
</ul>
<li>Floor area: 5,4 m²</li>
<li>Pack size: 150 x 30 x 10 cm</li>
<li>Materials:</li>
<ul>
<li>Ceiling: 50/50 cotton/polyester ripstop, fire retardant and mildew resistant</li>
<li>Walls: 210D polyamide, fire retardant and mildew resistant</li>
<li>Transport bag: 600D polyester</li>
<li>Poles: aluminium</li>
<li>Stakes: galvanized steel</li>
</ul>
description
<p>The sauna has for ages been a central and revered place in Finnish life, a place of birth and death, life and celebration. The word "hiisi" is ancient Finnish for a holy place, a place of sacrifice or mystical power – the perfect family name for our sauna tents and accessories.</p><br>

<p>The Hiisi 4 is built around the basic principles of our field camp tents, corner poles, telescopic centre pole, guy ropes and stakes. The corner poles are inserted into sleeves on the outside of the tent, making the interior a bit less crowded. The ceiling and wall materials are fire retardant for safety, not fire proof though so sparks and flames will burn holes in them so be careful.</p><br>

<p>The interior is large enough to fit one two person bench, two persons, and the stove. The stove is placed in the far right corner, as viewed from the entrance. The bench is placed on left hand wall, beneath the window. The window along the top edge of the bench wall provides some light and a chance to peek outside. The entrance is a simple zippered slit. A length of cord is attached to the ceiling seam of the back wall, this is an attachment point for a sauna thermometer to help you keep track of the temperature and not overheat the tent.</p><br>

<p>The tent, poles and stakes pack neatly into a carry bag for transport. Shoulder straps allow backpack like carry freeing up your hands for stoves or other accessories.</p><br>

<br>
<h3>NOTE!</h3><br>

<ul>
<li>The material of the tent window is as non-toxic as possible, and it has to meet extremely tough requirements for use both in extreme cold and hot temperatures.</li>
<li>As a side effect of this the material is also very sensitive to pigments.</li>
<li>Even the window of a new tent may have color spots or stripes absorbed from the tent wall fabric during storage and transportation.</li>
<li>This is not dangerous at all and is not a warranty issue.</li>
</ul>