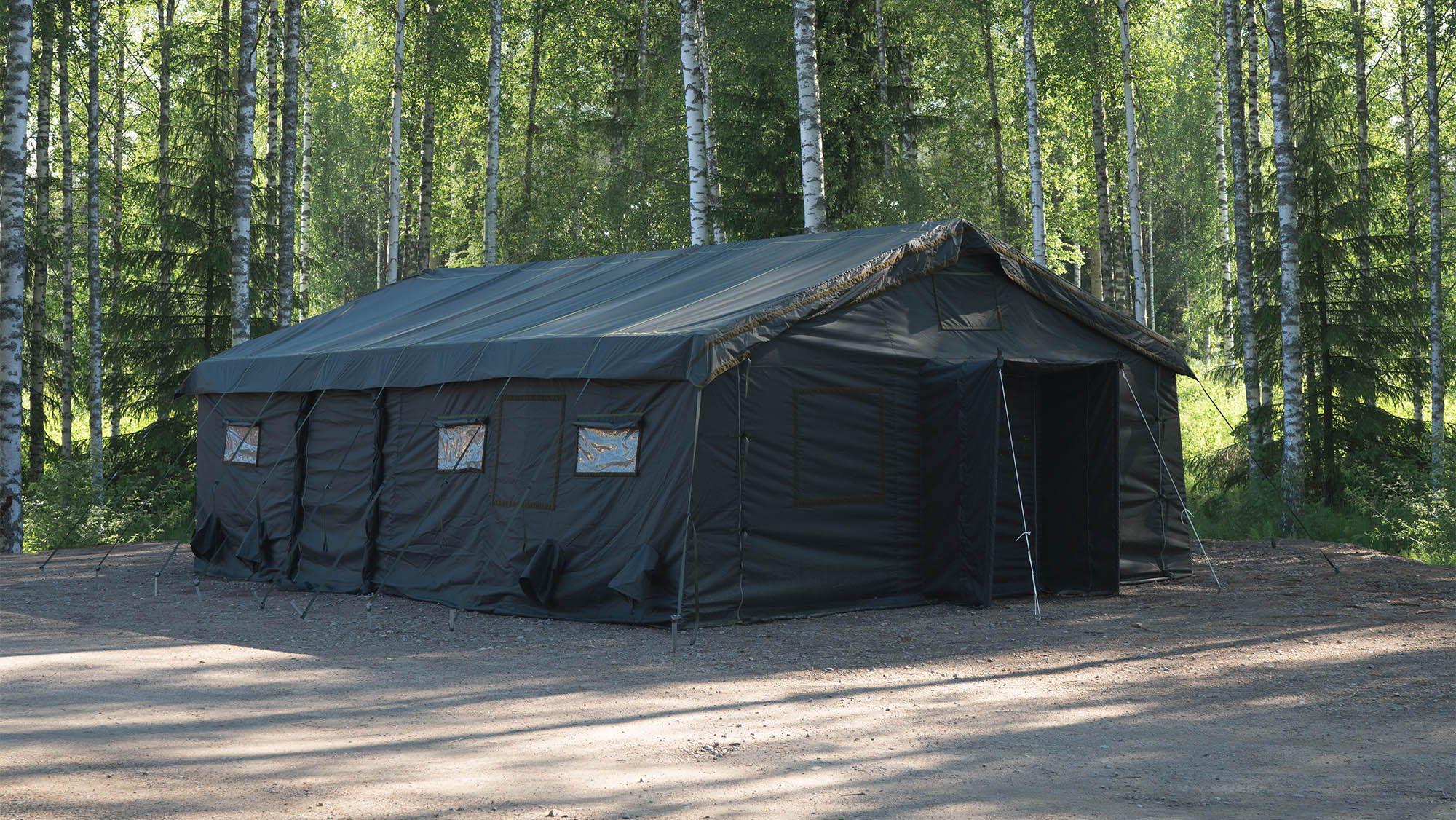 Rapid Deployment Tent 6x8
- Originally designed for rapid response field hospital units
- Easy and fast setup
- Modular and configureable to suit various operations and needs
- Floor dimensions 600 x 800 cm
- Wall height 195 – 225 cm (adjustable)
- Basic setup includes: frame, outer tent
- Basic setup time by four persons: ca. 15 min
- Full setup includes: frame, outer tent, inner tent, groundsheet
- Full setup time by four persons: ca. 30 min
- 5-year material and workmanship warranty (
read more
)
These apply for the standard model as pictured here. Custom inner/outer tent and groundsheet materials are available on request.
- Frame: weight 160 kg (incl. bag), packed dimensions 240 x 60 x 30 cm (W x L x H)
- Outer tent: weight 63 kg (incl. bag), packed dimensions 100 x 80 x 50 cm (W x L x H)
- Inner tent: weight 38 kg (incl. bag), packed dimensions 80 x 50 x 40 cm (W x L x H)
- Groundsheet: weight 29 kg (incl. bag), packed dimensions 100 x 75 x 15 cm (W x L x H)
- Stakes: weight 16 kg (incl. bags)
- Frame: aluminium and steel
- Outer tent: 100% polyester
- Inner tent: 50% cotton 50% polyester
- Groundsheet: 100% polyester with rubber coating
- Webbing: 100% polyester
- Buckles: POM and steel
- Stakes: galvanized steel
For more information contact our sales director Jenni Valkeinen: jenni.valkeinen [at] savotta.fi
The complete tent system includes the frame, outer tent, inner tent and groundsheet. The most basic setup consists of only the frame and outer tent, the inner tent and groundsheet are optional accessories.
Frame: made from aluminium and steel, relatively lightweight and easy to assemble/disassemble. The legs are adjustable to offer flexibility on uneven terrain and a means to adjust the height of the tent. The single largest pieces (the truss and leg combinations) weigh 21 kg each. The complete frame weighs 160 kg, including carry bag
Outer tent: relatively lightweight and packable for its size, the outer tent goes over the frame and covers all sides except for the ground. The wall segments are completely removeable and feature numerous ports for air conditioning, openable windows with mosquito nets and entrances on all sides. The outer tent weighs 63 kg, including carry bag.
Inner tent: attaches to the frame inside the outer tent and offers insulation. The light green fabric offers illumination. The inner tent features matching details for all the entrances, windows, ventilation ports etc. featured on the outer tent. The inner tent weighs 38 kg, including carry bag.
Groundsheet: a simple, rugged, rubberized and waterproof sheet that covers the entire floor of the tent offering a clean workspace. The groundsheet weighs 29 kg, including carry bag.
Stakes: The full system includes 24 larger 40 cm long stakes for the tent guy ropes, 10 smaller 30 cm long stakes for staking the frame to the ground and a total of three storage pouches. The combined weight of all these stakes with carry bags is 16 kg.
Optional hard surface pitching kit: primarily the tent is designed to be staked to the ground. If the tent is pitched on concrete, asphalt or a similar surface into which you can not hammer stakes you need to use a series of accessories. These include a set of leg plates which allow you to pile heavy objects onto them to keep the legs secured to the ground in windy conditions. A set of cargo straps can be used to cross-support the frame to prevent twisting in hard winds.
The standard transport and storage system for the RD tent is a series of bags. These are lightweight in comparison to wooden crates, which is the original reason for them being chosen as the standard system.
Frame bag: a long zippered bag with eight carry handles
Outer tent bag: a folding cover with compressions straps
Inner tent bag: a folding cover with compression straps
Groundsheet bag: a folding cover with compression straps
Stakes: three small pouches
Customized transport and storage solutions, wooden crates for example, are available on request.
A tent like this will need servicing from time to time. This has been taken into account in the design: the inner and outer tent sheets consist of separate pieces which can be easily disassembled. The smaller separate pieces are much easier to clean and repair than the complete tent sheet.
The same applies for the frame which is made up of numerous separate pieces. Individual damaged segments can easily be replaced and repaired to bring them back to service.
We can offer consultation on how to organize and source service and repairs locally. We recommend sourcing repair and maintenance services locally to reduce out-of-service time per tent due to delays caused by shipping and outsourced repairs. We can also provide spare parts and components and offer repair services to these tents if needed.